Our company is a one point solution for garage spring repair and maintenance. The garage door spring, the most vital component of the garage doors, is responsible for effective garage door operation. The effortless function of garage door depends on proper maintenance of garage door springs. Garage door dysfunction leads to severe troubles in operating the door. Sometimes it ends up in serious problems for garage door owners. The maintenance of garage door springs needs expert supervision as it involves precise fault detection, customized repair and proper installation for effective functioning.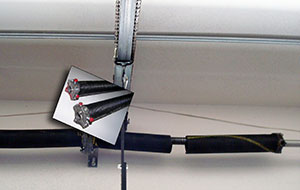 Our technically sound service team possessing vast experience in repair and maintenance of garage door springs offers state of the art service in Alhambra and nearby areas. We believe in the concept: Think global, Act local. Therefore, we keep sticking to explore the newest technologies employed in garage door spring installations and maintenance and providing the same services to our valued customers. Garage Door Repair, Alhambra, has gained unparallel reputation in providing reliable technical guidance and maintenance in the field of garage door spring installation and repair. In stead of coming up with conventional solutions, we go for a thorough analysis of the problem and suggest customized solution avoiding future recurrence. Our reliable service has gained our organization a distinguished position in the garage door repair market.
We have expertise in providing highly precise technical solutions in maintenance and repair of garage door springs. An ill managed garage door may result in serious accidents. The complex mechanism involved in garage door movement may develop technical snag any moment unless it is maintained properly. This results in coordination between the various components of a garage door mechanism. Every year many serious accidents occur due to negligent attitude of garage owners for regular maintenance. We not only provide repair services, but also we provide regular maintenance of the garage doors as per the convenience of the garage owners. The maintenance programmes are tailor-made to suit various customer needs. The services offered include the repair or replacement of broken springs, extension springs, torsion spring and galvanized garage door springs.
We aim at customer satisfaction with 24/7 quality service and technical support at an affordable price
We believe in preventing hazardous mishaps involving garage doors as the accidents cause serious inconvenience to our customer. The mishaps involve financial as well as physical loss with emotional trauma. Our motto is to create awareness among people regarding safety issues involving garage door operations. We believe in creating a safer world for you and your family with our efficient service support.
A wide range of common problems associated with garage spring have been discussed in detail to give a thorough idea about the threats involved with garage door malfunctions. We extend customized technical suggestions and solutions at your doorstep at your convenience.