Garage door is one of the largest visible external parts of a property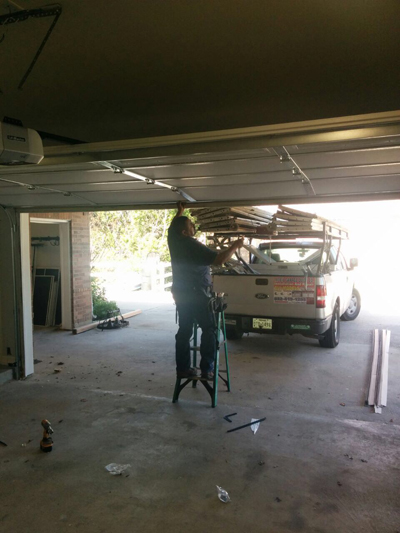 This gives a different identity to the house and reflects the taste of the owner. Therefore while going for the installation of new garage doors or replacement of previous garage doors, the owner should consider various factors as per the requirement and budget.
The most common types of garage doors for commercial and residential garages are retractable, canopy, side hinged and sectional retractable doors. Compared to garage doors in olden times, the modern garage doors are safer, more user-friendly, intelligent and durable. Normally the garage doors for houses are tailor made keeping in mind the appearance. The canopy garage doors roll up manually. It can be automated by using a remote controlled operating system. Due to less availability of driveway area, the sectional garage doors are accepted. The up and over door is an innovative approach to efficient space utilization. This door opens and closes vertically and folds on the ceiling thereby allowing vehicles to be parked within negligible distance.
Garage doors can be custom made as per the specifications. We, Garage Door Repair Alhambra, provide custom made solutions for garages as per the customer requirement which may include taking care of precise factors such as plan preparation, designing the opening and the door size as per the exact specifications, planning of garage materials, heated garages and unique window designing.
The garage doors are made of various materials. It may be a steel garage doors, aluminum garage doors, wood garage doors or craftsman garage doors. Each material has its own positive factors. Wooden doors provide good insulation and an appealing look. But the wearing action is very prominent in case of wooden materials due to the inclement weather, direct sunlight and rain. Wooden doors also require frequent repainting for protection. Steel garage doors are highly durable and give great value for the investment. But it is much more expensive than wooden doors. Aluminum garage doors are lighter in weight as compared to steel doors. Craftsman garage doors are the right answers for customers who value the look and functionality for better convenience and impressive appearance.
The installation of the initial garage door or the door to be replaced in addition to the customized steel or metallic frame and associated parts are tailor made to suit your taste and requirement. The supplementary fixtures are also customized to match the ambience.